ALBEPRO

Beheerd door:

Your Partner in High-End, Home Cinema- and DJ Equipment
ALBEPRO the Technics® specialist from the Benelux Europe
Official Dealer Technics®/ © Panasonic Corporation

Your supplier for Technics® Turntables, replacement parts, maintenance- and upgrades
Any repairs, maintenance- and upgrades are done by a professional skilled manner according Technics®/Matsushita Electric Industrial Co. Ltd. specifications. 
Exclusively with new original Technics®/Panasonic parts and lubrications 

Both for the HIFI & High-End segment as DJ professional & Bedroom DJ
© 2010 ALBEPRO All rights reserved. Unauthorized copying and distribution is a violation of law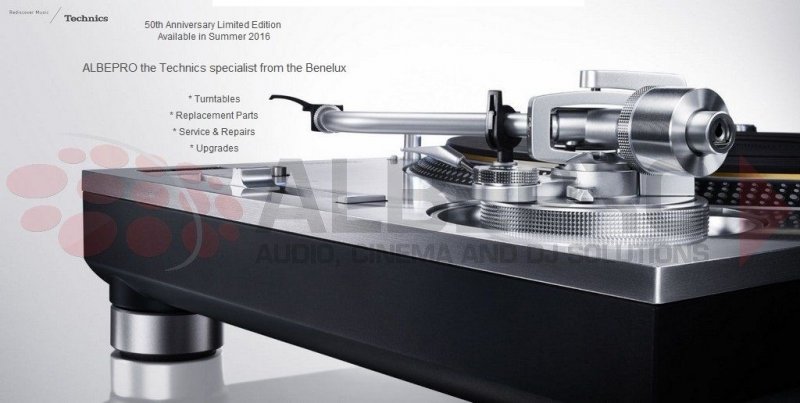 ALBEPRO
Official Dealer Technics®/ © Panasonic Corporation Netherlands
De Duivenakker 3a
5735 JA AARLE-RIXTEL
NETHERLANDS

Tel.     +31 (0)492 77 9000
Mob. +31 (0)6 145 33073
mailto: info@albepro.nl
please visit our website www.albepro.nl
Like our FB: Facebook - ALBEPRO
Chamber of commerce Oost Brabant The Netherlands no. 53053362
Services
In addition to your Positive feedback we hope you will give us FIVE STARS on all of the Detailed Selling Ratings.
If you feel like we fell short of five stars, please tell us firstly, we commit to offer you the best products and services.
Please don't hesitate to contact us if you have any questions or enquiries.
We are looking forward to serving you. 
57

resultaten gevonden in

alle rubrieken

Weergeven als:

Lijst

Sorteren op:

Tijd: eerst afgelopen

EUR 420,00
Gratis
Resterende tijd:

3u 16m

EUR 420,00
Gratis
Resterende tijd:

3u 17m

EUR 95,50
+EUR 3,75
Resterende tijd:

21u 16m

EUR 95,50
+EUR 3,75
Resterende tijd:

21u 33m

EUR 35,00
+EUR 6,95
Resterende tijd:

23u 3m

EUR 66,50
+EUR 6,95
Resterende tijd:

23u 19m

EUR 4,95
+EUR 2,50
Resterende tijd:

1d 0u 18m

EUR 3,40
+EUR 2,50
Resterende tijd:

1d 0u 42m

EUR 49,00
+EUR 6,95
Resterende tijd:

1d 0u 50m

EUR 220,00
+EUR 6,95
Resterende tijd:

3d 18u 56m

EUR 450,00
+EUR 6,95
Resterende tijd:

4d 2u 41m

EUR 450,00
+EUR 6,95
Resterende tijd:

4d 2u 48m

EUR 532,00
+EUR 6,95
Resterende tijd:

4d 2u 54m

EUR 12,95
+EUR 2,50
Resterende tijd:

4d 22u 36m

EUR 12,95
+EUR 2,50
Resterende tijd:

4d 22u 45m

EUR 6,95
+EUR 2,50
Resterende tijd:

5d 2u 24m

EUR 6,95
+EUR 2,50
Resterende tijd:

5d 2u 28m

EUR 6,95
+EUR 2,50
Resterende tijd:

5d 2u 30m

EUR 6,95
+EUR 2,50
Resterende tijd:

5d 2u 38m

EUR 10,00
+EUR 3,75
Resterende tijd:

5d 5u 18m

EUR 50,00
+EUR 3,75
Resterende tijd:

5d 5u 57m

EUR 50,00
+EUR 3,75
Resterende tijd:

5d 6u 6m

EUR 35,00
+EUR 3,75
Resterende tijd:

5d 6u 22m

EUR 35,00
+EUR 3,75
Resterende tijd:

5d 6u 29m

EUR 35,00
+EUR 3,75
Resterende tijd:

5d 6u 36m

EUR 25,00
+EUR 2,50
Resterende tijd:

5d 6u 45m

EUR 53,50
+EUR 6,95
Resterende tijd:

5d 20u 14m

EUR 9,95
+EUR 2,00
Resterende tijd:

6d 19u 56m

EUR 11,10
+EUR 2,50
Resterende tijd:

6d 20u 51m

EUR 5,90
+EUR 2,00
Resterende tijd:

6d 22u 56m